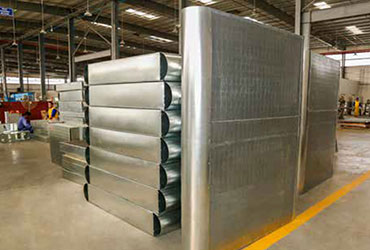 Attenuators / Silencers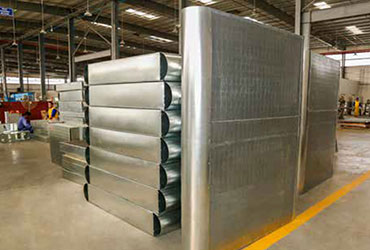 Silencers or Attenuators allow the passage of airflow while helping acoustic loss or reduction of sound, at the same time.
Manufactured using basic material with well-recognized sheet metal construction process and design, the real science lies in acoustic design calculations that determine accuracy, product selection, performance and quality.
Galloway Acoustics offer a wide range of both rectangular and cylindrical silencers in standard as well as custom sizes, thus catering to the requirements of HVAC Duct Systems for Commercial, Institutional and Industrial buildings respectively.
Optional Features We Offer
The acoustic media of all our duct-mounted silencers and acoustic splitters are protected by glass fiber tissues in addition to perforated metal protection.
Our silencers can be tailored to meet specific requirements of BS476 Part 4 (Fire) and BS 5588 Part A (Smoke) by adopting Fenland Fire Spray (FF) treatment methods.
Bends: All Galloway rectangular silencers can be manufactured as vertical (VB), horizontal (HB) or T-section (TB) bends.
Multi-Section (MSL, MSW, MSH) and Flat Pack (FP): We offer several options for sites with poor access and that lack lifting mechanisms, where large silencers need to be broken down into smaller component parts.
Ductwork Terminations: All Galloway silencers can be manufactured with a range of optional complementary ductwork components as their integral part.
Painting: Our complete range of standard silencers can be painted using Polyester Power Paint, thus coating the internal as well as external metal surfaces to protect them from chlorination and for a better aesthetic appearance.